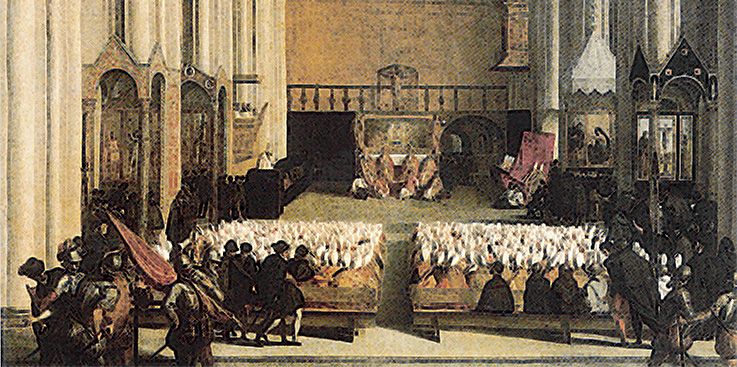 The Reformers had constantly charged … that the Catholic Church had apostatized from the truth as contained in the written word. "The written word," "The Bible and the Bible only," "Thus saith the Lord," these were their constant watchwords; and "The Scripture, as in the written word, the sole standard of appeal," this was the proclaimed platform of the Reformation and of Protestantism.
Scripture alone or Scripture and tradition?
There was a strong party even of the Catholics within the council who were in favor of abandoning tradition and adopting the Scriptures only, as the standard of authority. This view was so decidedly held in the debates in the council that the pope's legates actually wrote to him that there was "a strong tendency to set aside tradition altogether and to make Scripture the sole standard of appeal." But to do this would manifestly be to go a long way toward justifying the claims of the Protestants. By this crisis there was developed upon the ultra-Catholic portion of the council the task of convincing the others that "Scripture and tradition" were the only sure ground to stand upon. If this could be done, the council could be carried to issue a decree condemning the Reformation, otherwise not. The question was debated day after day, until the council was fairly brought to a standstill.


The Archbishop of Reggio
Finally, after a long and intensive mental strain, the Archbishop of Reggio came into the council with substantially the following argument to the party who held for Scripture alone: "The Protestants claim to stand upon the written word only. They profess to hold the Scripture alone as the standard of faith. They justify their revolt by the plea that the Church has apostatized from the written word and follows tradition. Now the Protestants' claim, that they stand upon the written word only, is not true. Their profession of holding the Scripture alone as the standard of faith, is false.

PROOF: The written word explicitly enjoins the observance of the seventh day as the Sabbath. They do not observe the seventh day, but reject it. If they do truly hold the Scripture alone as their standard, they would be observing the seventh day as is enjoined in the Scripture throughout. Yet they not only reject the observance of the Sabbath enjoined in the written word, but they have adopted and do practice the observance of Sunday, for which they have only the tradition of the Church. Consequently the claim of 'Scripture alone as the standard,' fails; and the doctrine of 'Scripture and tradition' as essential, is fully established, the Protestants themselves being judges."

There was no getting around this, for the Protestants' own statement of faith — the Augsburg Confession, 1530 — had clearly admitted that "the observation of the Lord's day" had been appointed by "the Church" only.

The argument was hailed in the council as of Inspiration only; the party for "Scripture alone," surrendered; and the council at once unanimously condemned Protestantism and the whole Reformation as only an unwarranted revolt from the communion and authority of the Catholic Church; and proceeded, April 8, 1546, "to the promulgation of two decrees, the first of which enacts, under anathema, that Scripture and tradition are to be received and venerated equally, and that the deutero-canonical [the apocryphal] books are part of the canon of Scripture. …


Inconsistency brings defeat
Thus it was the inconsistency of the Protestant practice with the Protestant profession that gave to the Catholic Church her long-sought and anxiously desired ground upon which to condemn Protestantism and the whole Reformation movement as only a selfishly ambitious rebellion against church authority. And in this vital controversy the key, the chiefest, and culminative expression, of the Protestant inconsistency was in the rejection of the Sabbath of the Lord, the seventh day, enjoined in the Scriptures, and the adoption and observance of the Sunday as enjoined by the Catholic Church.

– Romes' Challenge, p. 25-27